An essential part of Woodland Parent Nursery School Preschool is the adult education and support offered to families. WPNS provides many opportunities for family education both inside and outside of the classroom.
In-Class Education
Each adult member of WPNS has the opportunity to learn effective communication and conflict resolution and get a deeper understanding of child development under the guidance of a trained teacher during their in-class participation days. They also engage in an end-of-the-day discussion with the teacher about their observations, questions, and reflections.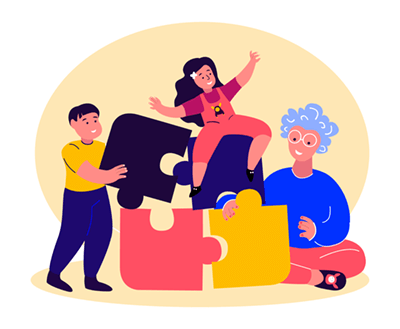 Reading Assignments
Members receive a daily email in the form of an engaging story to read with their child. These emails may recount a play story or activity, a challenge faced, or a conflict or problem that may have been unresolved. These stories give families a chance to connect with their children about the day's events, build a sense of identity and self-worth and provide further opportunities for social-emotional problem-solving and development. Our adult members may also receive links to further reading related to the day's events or that month's evening seminar.
Evening Seminars
We learn in real-time and in dynamic situations with real children about how to best support child development as we teach in the classroom. We get to reflect and ask and respond to each other's questions both in the moment and at the end-of-the-day discussion. Our once-a-month evening seminars build on that in-class education by listening to expert speakers from within the community. Panels cover topics like health and safety, sibling rivalry, preparing for kindergarten, and more. These classes are mandatory for enrolled families and open to the wider Woodland community.
Family Support
In addition to in-class time and evening seminars, WPNS offers fall, spring, and as-needed parent-teacher conferences with the director and various services and social activities ranging from gardening to potlucks to support families. In addition, a mandatory orientation meeting is held before the start of school, where teachers and staff provide additional information and allow for family introductions.
Family Responsibilities
Each family contributes uniquely to decision-making, problem-solving, and making our school the wonder-filled place it is. In running our school, members take on leadership and service roles, gain and enhance skills, and discover and develop talents. Our families go on to make a fundamental difference in area schools, the lives of children, and the Woodland community and beyond.
Participation in the classroom one day per week per child enrolled, dependent on participation level.
Utilize your talents and sign up for a school job.
Fundraise for the school (i.e. ticket sales, donations, and event committee work)
Two work parties per year (school maintenance and clean-up)
Family Education (there is a mandatory meeting once a month – 9 total
Weekend Maintenance