WPNS Preschool Director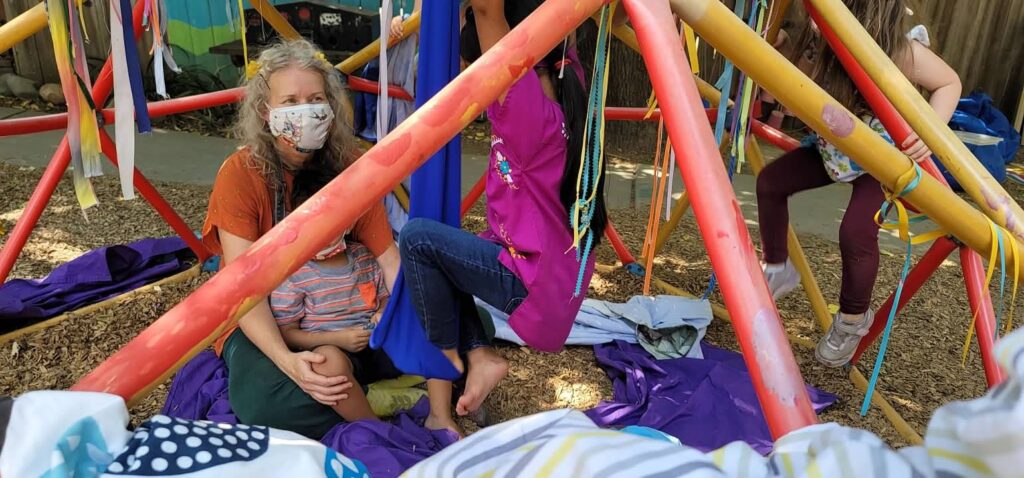 Michelle Semrad Barrera
Michelle Semrad Barrera brings a passion for play and parent education and support to Woodland Parent Nursery School, WPNS. She is the proud parent of a neurodivergent child, now in their twenties, and is a champion of empathy, listening, connection and inclusivity.
Michelle comes to WPNS from the Los Angeles area and Cottage Cooperative Nursery School, founded by Pacific Oaks parents in the 70s. Michelle found her calling at this play-based cooperative with its emergent and anti-bias curriculum.
She has a master's in education from the University of California Los Angeles and a master's of fine arts from the California Institute of the Arts. She is a former K12 teacher, early literacy and writing coach, and school consultant. After years of championing a student-directed approach as opposed to a rewards and punishment, teacher-directed and one-size-fits-all system of education, she discovered the true meaning and wonder of teaching and learning through play, the work of childhood, and in teaching and learning side by side with families.
She loves the messiness of play and the constant discovery. She loves the tears and the laughter, not just of the grownups grappling with goodbyes or some other developmental milestone, but of the children too. Michelle is eager to bring that love and her vision to WPNS. She embraces the challenges, especially the learning and growth that happens for the whole family and community as a result.
For Michelle, this is the core of the work: supporting all types of families with all types of children in healthy social-emotional development, while trusting children to know the work they need to do.
During the 2020-21 school year, Michelle had the opportunity to shape remote learning for families that prioritized community, connection and family support. Her school community and the California Council of Parent Participation Nursery Schools recognized these efforts by presenting her with the Community Leadership Award. She is a California credentialed teacher with a Multiple Subject Teaching Credential, Single Subject Teaching Credential in English, and Child Development Site Supervisor Permit.
check out her latest blog post: https://cottagecoop.org/cottage-parenting/2021/5/15/a-day-in-the-life-of-a-child-directed-play-based-program "I wrote this day in the life in my daily letter to the class which is typically a single story from the day and only a paragraph.
Parents and Tots Director: Kim Hammons